SECWEREWOLF's official Twitter account
https://twitter.com/Sec_JINROH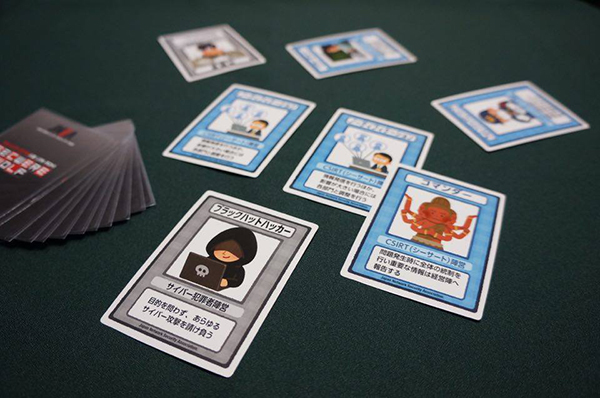 CSIRT (Computer Security Incident Response Team) is an organization that receives reports of security breaches, conducts investigation of the reports and responds the incidents in case of emergency.
SECWEREWOLF separates players into two teams, the CSIRT Team and the Cyber Crime Team, based on the job cards they first receive. During their turns, CSIRT members can dismiss the players they believe to be cyber criminals, and the Cyber Crime Team members commit crimes during their turns (shown on their job abilities), trying to put the blame on other players to get them fired. This pattern repeats with each group trying to come out on top.
Game Story
The corruption in white collar employees never ends...
One night, corrupt employees illegally pilfered company secrets. They were dissatisfied with the way the company treated its employees and committed the crime with the help of black hat hackers. The corrupt employees try to pin the blame on those who hurt their self-esteem and continue to commit crimes each night. Innocent employees are fired one after another... Just who are the corrupt employees?
Investigation and Interrogation of Suspects
After the chain of crimes, the company's managers decided to create an investigative team called CSIRT, filled with security specialists who each had various specializations. The CSIRT Team set out to investigate and interrogate suspects.

In order to bring public order back to the company, the CSIRT Team made the harsh decision to lay off one person each day. Will they be able to eliminate all of the corruption and bring order back to the company?
Contents
Download
How To Play Movie(YouTube)
information
Number of Players: 3-20
Playing Time: 20-60 minutes
For Ages: 10+

illustration:いらすとや(@irasutoya)

Product name: SECWEREWOLF
Category: Card game
Issuance: January 20, 2017 (First Edition)
Production: Japan Network Security Association (JNSA)
How to get
Click here to get your cards today!
(Tokyo Otack Mode shop)